Fall acoustic tour with Rhett Miller, Ewert and the Two Dragons
Trapper will be all over the USA the next two months with just his six strings, stories and songs. Check out the dates below:
With Rhett Miller of Old 97′s:
September 17 – Milwaukee, WI, Shank Hall
September 18 – Chicago, IL, City Winery Chicago
With Ewert and The Two Dragons: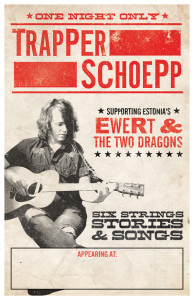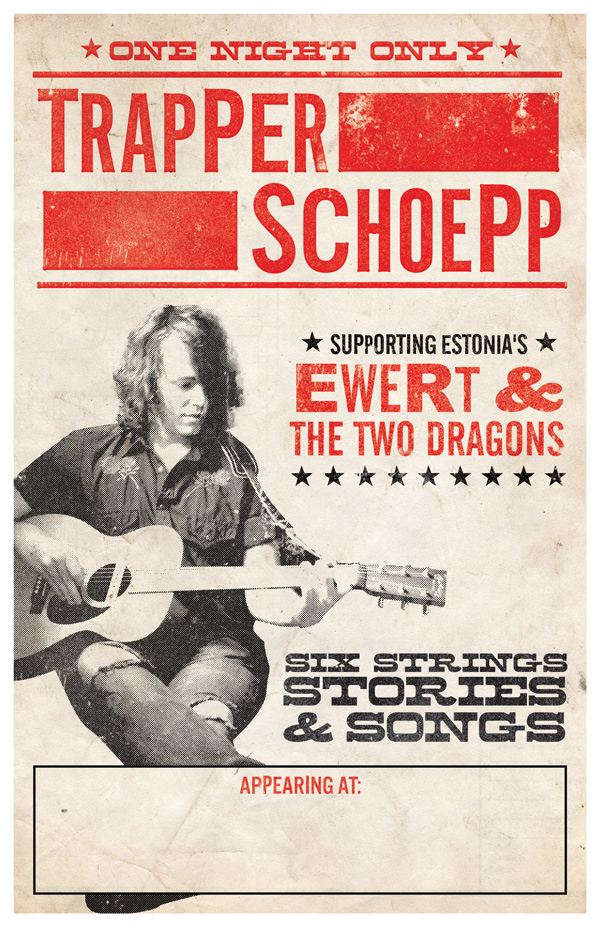 September 20 – Austin, TX, Stubb's Austin
September 21 – Dallas, TX, The Prophet Bar
September 23 – Nashville, TN, The High Watt
September 24 – St. Louis, MO, The Firebird
September 25 – Madison, WI, The Frequency
September 27 – Minneapolis, MN, 7th St Entry
September 28 – Chicago, IL, Beat Kitchen
September 30 – Columbus, OH, The Basement
October 1 – Ann Arbor, MI, Blind Pig – Ann Arbor, MI
October 2 – Toronto, ONT, Legendary Horseshoe Tavern
October 3 – Rochester, NY, Bug Jar
October 4 – Pittsburgh, PA, The Smiling Moose
October 5 – Philadelphia, PA, Johnny Brenda's
October 7 – Washington, DC, DC9
October 9 – Cambridge, MA, TT The Bear's Place Inc
October 10 – New York, NY, The Mercury Lounge
October 12 – Burlington, VT, Higher Ground
Poster by Ryan Lynch.
Photo by Rachel Sauer.
A taste of Trapper and his acoustic, courtesy of Before the Concert: